DO YOU KNOW WHETHER YOU ARE EXITING A TRADE TOO SOON LEAVING PROFITS BEHIND? DO YOU KNOW HOW MUCH MORE IT CAN MOVE?PRECISELY?
If Your Answer To Either or Both of These Questions is a 'NO' then You certainly need Enroll in this course Today!
WHY DO YOU WANT TARGET MASTERY?
You Want to know where the Target is so that you can have a clear idea of the Reward for the risk you are taking in the trade
You Want to know whether it is really worth taking the trade so that you can avoid if Target is close to a major resistance
You Want to know all the Targets so that you can scale in and out of the trade
You Want to know all the Targets ahead of time so that you can plan precisely how much to invest in that trade and what order size to use
You Want to know the last Target so that you don't stay in the trade beyond that level and give back all the profits and feel like a dumbo
You Want to Maximise the the return on your investment knowing the Targets ahead of time helps you to make a best decision when you have a choice of multiple opportunities.
And much much more...
Think About this For a minute... When you were in a trade, how often did you think , 'wish i know where the targets are?' Yes? If you felt this way at least once this way this course is certainly for you. No where on the planet internet you are going to find a course like this that gives you not one, two , three , four or five a full collection of 12 strategies on how to precisely find Targets to exit and lock in all the profits you deserve. when we board a plane we certainly know where we are exiting right? Shouldn't it apply to your trade? Answer is a resounding YES. But, you were not told how to find these hidden targets. A BIG UGLY PROBLEM

YOUR PROBLEM SOLVED INTRODUCING...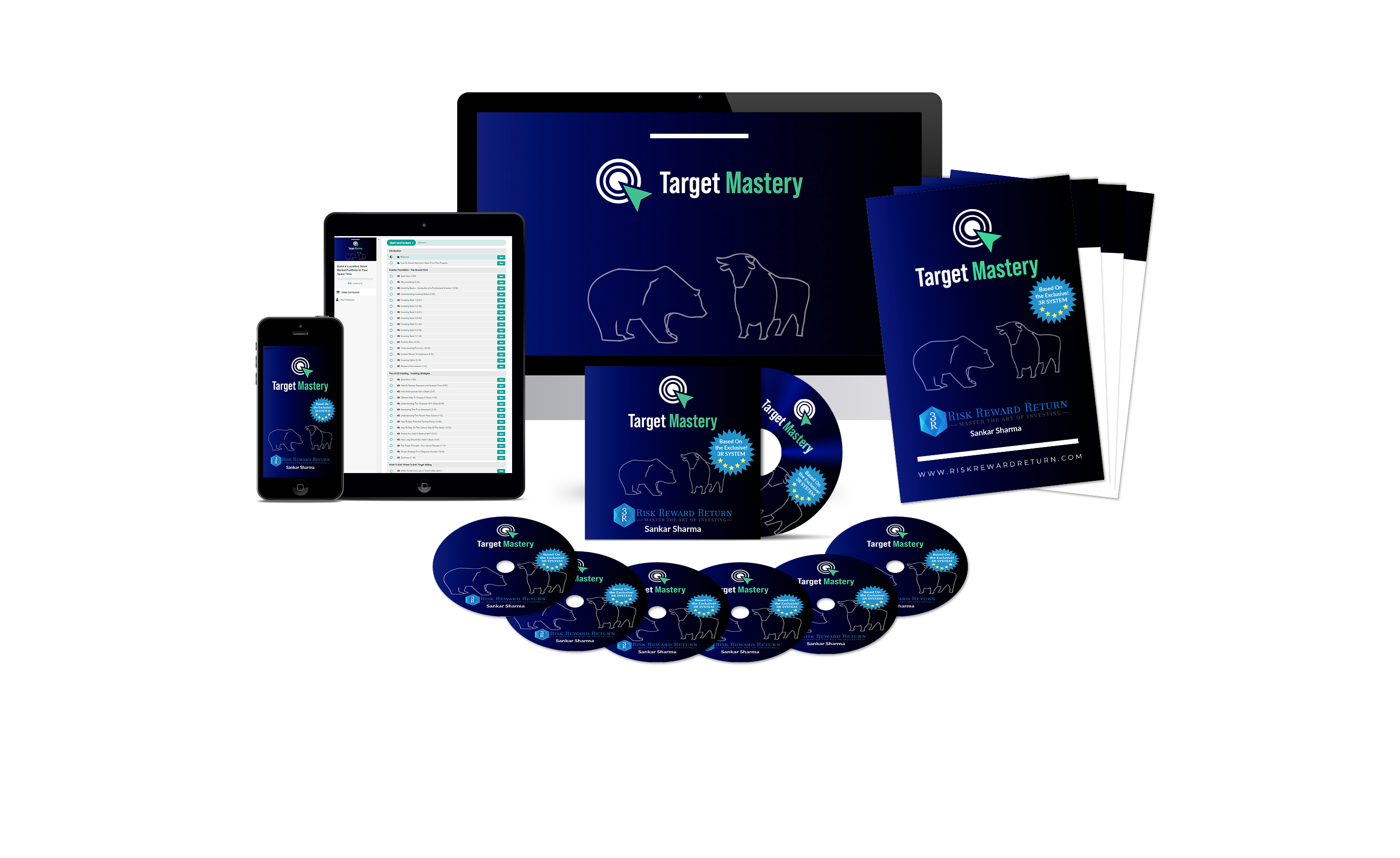 *No physical products will be shipped above graphic is a pictorial representation of the online modules
Achieve Excellence In Targets. Get Precise Targets using 12 Top Secret Target Methods for any asset class. Works in all markets and on all time frames
WHAT IS TARGET MASTERY ...ALL ABOUT?
Every one knows where to Enter a trade but not many know where to exit a trade in profit and how long to hold the position, Often people realise they left a trade too soon, just only to see the stock go and double , triple in a very short time. Gut wrenching! Right? This is where Target Mastery comes to your total rescue.
Target Mastery is a complete course on Targets. Finding potential Targets with Laser precision. During the course you will learn 12 different Strategies for identifying potential targets. When market has momentum you need stretch targets. This course gives you tools to identify those targets. Each of these unique strategy will progress your knowledge from novice to expert in Target setting in 4 step by step easy to follow sessions in this 1 Day long course. All the course materials are pre-recorded and are ready for your consumption right now. No need to wait around for a future course date.
You can use the 12 Strategies you learn in the following scenario:
In a Trending Market
In a sideways Market
In Forex Trading
In Stock Trading
In E-Mini Trading
In Options Trading
In Futures Trading
In Index Trading
In Commodities Trading
In Bond Trading and much more.
WHY IS THIS COURSE A MANDATORY AND A MUST KNOW?
Trading without Targets is as good as gambling. It is like flushing your hard earned money down the toilet. Asking Mr Market to strike again and again. Take your money away.You will end up leaving your trade too soon and missing out the juicy, nice bulky profits you could have had locked in.
This is for you if you are a Trader or an Investor
This is for you if you are a Swing Trader
This is for you if you are a Day Trader
This is for you if you are a Position Trader
This is for you if you Trade any leveraged asset class
This is for you if you Trade any Margin Trading
WHAT IS COVERED IN THIS TRAINING?
12 Unique Secret Target Trading Strategies covered in this training. In these session you will see Sankar demystify 12 powerful unique strategies. Each with clear rules, case studies. He gives you ready to implement Target strategies that can be applied to any market in any time frame to arrive at a Target. Often multiple Targets. These are time tested strategies that can be applied to any markets. You can use them as a stand alone strategy or combine them for multiple confirmations or confluence.
This is so unique on the planet online as no one has taken time to give you such an in-depth, easy to implement and methodical way to work out targets for any market on any time frame. More over not just 1 Strategy but 12 different strategies so that you can chose the one that best suited for the situation and one that best suits your trading style.
Trading Targets Training is delivered in 4 Sessions. This is recorded online training that is made available to you after purchase, in your own private member area with your own member id and password. Each session covers a bunch of strategies.
There are no retake charges. You can consume at your own convenience any time you want at any pace you want.
YOUR FAST ACTION BONUS 1 VALUE £5000.00
Act Today! Receive 1 Hour LIVE One-To-One Consultancy With Sankar
Most courses are just there for you to consume. With this course you get access to Sankar so that you can get answers for your queries . Also, you get a chance to get your doubts clarified. The consultancy will be arranged at a pre-agreed schedule.
YOUR FAST ACTION BONUS 2 VALUE PRICELESS
Act Today! and Receive Digital Guide With Case Studies
Everyone loves a Digital Guide that shows off how the strategies worked in the recent past in real life trades building your confidence in implementing the 12 strategies you learn in the course
Your Trading and Investing Coach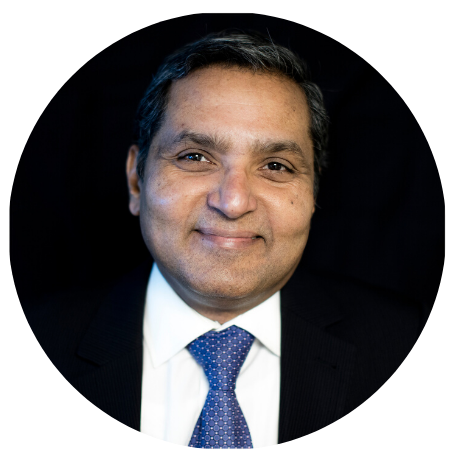 " Sankar helps individuals and institutions spot opportunities and manage risk so that they can build wealth and grow clientele in abundance "
---
Meet Your Course Instructor: Sankar Sharma - Market Expert, Renowned Trader, and Investor.
Introducing Sankar Sharma as the instructor for this course - a seasoned market expert and trader with a wealth of experience under his belt.
Recognized as an Investing and Trading Authority by Forbes, Sankar is the mastermind behind RiskRewardReturn.com and the innovative '3R Methodology (TM)' - a unique approach to trading that has set him apart in the industry.
Sankar's expertise has been acknowledged by leading media outlets including Forbes, Business Insider, The Business Journals, Nasdaq, Nikkei (parent outlet of Financial Times), IG Markets, International Business Times, US News, FT Specialist, New York Post, NTD Business, CPG Specialist, Money Media, CBS Los Angeles, KNX News, and Authority Magazine, among others.
As an international keynote speaker, Sankar is a sought-after presenter at prestigious events such as the International Federation of Technical Analysts and the Society of Technical Analysts. These gatherings frequently host top investment managers, fund managers, and investment bankers who manage millions in assets.
In addition to his speaking engagements, Sankar is the author of "Stock Trading Made Simple," a comprehensive guide to making stock trading accessible for all.
Sankar began his investment journey in 1987, just like many of you. Over the past three decades, he has witnessed multiple recessions, trained thousands of students, and shared his investing and trading knowledge on numerous stages.
Today, Sankar is eager to impart his wisdom and experience to help you succeed in investing and trading.
"Sankar's Vision: Empowering Generations with Financial Education and Investment Mastery to Cultivate and Safeguard Abundant Legacies."
---
Get Started Right Now and Reap The Benefits!