Let Me Ask You A Question
Do You Ever Feel
Over whelmed, Frustrated, Left behind As A Beginner

When It comes to Trading in the Stock Market?

Not knowing Where To Start?

Wondering How Others Seem to Make Money Effortlessly From The Markets?

Wondering How on the earth you are going to find the time ever To Learn How to Trade In The Markets?

Without jeopardizing your work and time with the loved ones?
If your answer is YES, then I have Created Just the right course for you which takes less than 15 minutes each day, Only 4 Days A Week and in under 6 Weeks you will learn Exactly How to go about Trading In The Stock Market.
Master The Skill In Just under 21 Days You Too Will Know ….
Where To Trade

How Much To Trade

When To Buy and Sell

How To Buy Low And Sell High

How to Protect your Gains

When to Lock in your Profits


How to Duck and

Avoid the Risky Trades, Times and much more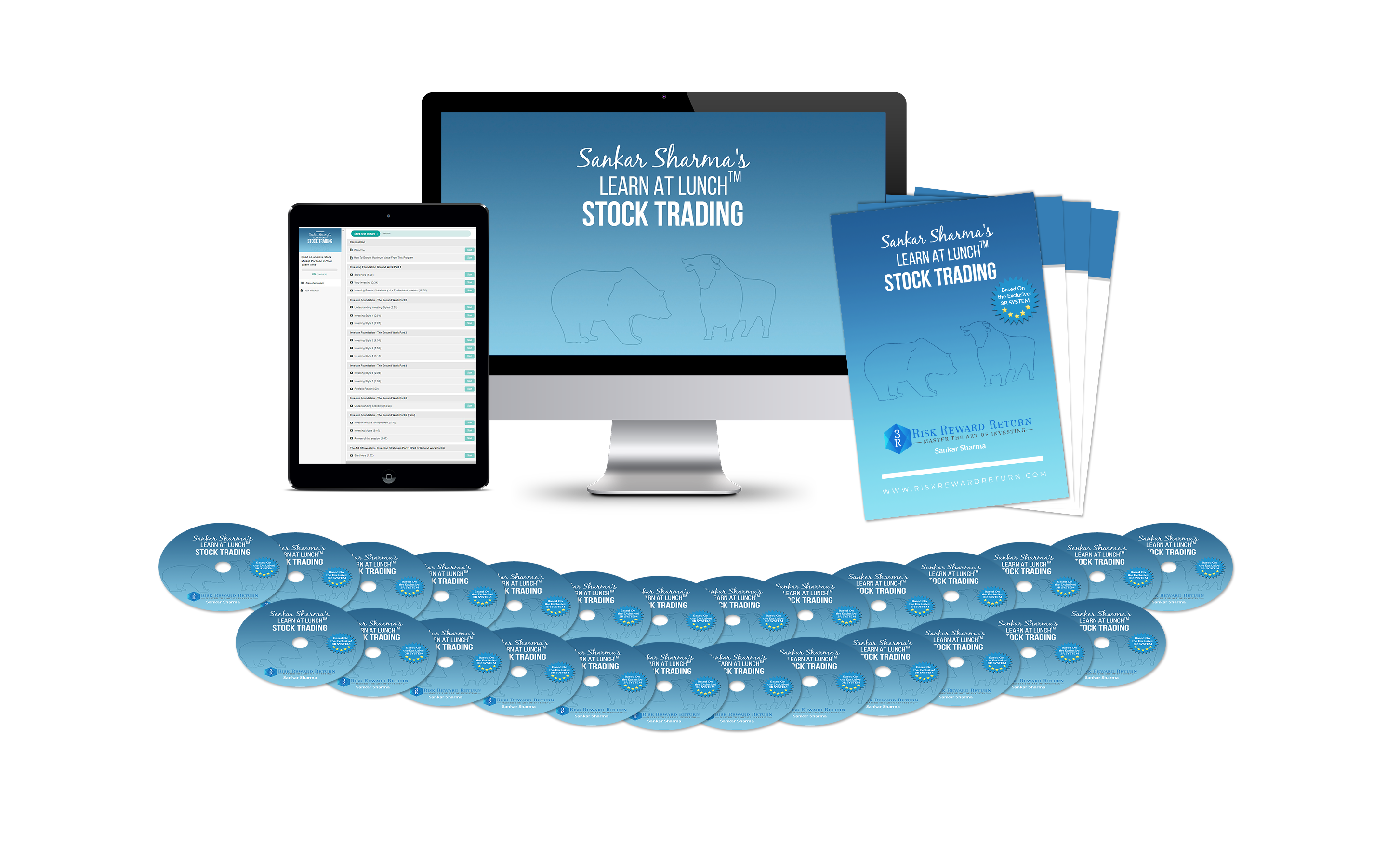 The Great news is you can Learn At Your Lunch break. if you wish, without having to interrupt your work or the time you spend with your loved ones.
From a COMPLETE STARTER to a SAVVY TRADER In just under Six Weeks spending Just 15 Minutes Each Day and Only Four Days A Week!
Once you enroll in the Learn at Lunch STOCK TRADING MADE EASY Course, you will get immediate access to a 15-minute module on a daily basis for 4 Days A Week. This will be in your own private area protected by a user id and password. You can consume this on any device Laptop or Tablet or Mobile Phone.
You can always revisit old modules and you are free to complete the course as per your schedule – even if that means doing it on your lunch breaks!
As Part Of This Program You will Learn
How to Choose Stocks:
In the Learn at Lunch Stock Trading Made Simple Course, you'll learn a unique system for identifying quality stocks which have income potential and which to avoid altogether.
In fact, my system for identifying profitable stocks ALONE is worth more than the price of this entire course!
How to filter good stocks from bad stocks
In 2017, If you bought Boeing you would have made bulk load of money but if you bought General Electric you would have lost tons of money. So you need to know how to filter the weeds from seeds to avoid pain of loss and enjoy the fruits of doing it right.
Picking stocks based on your best suited Trading strategy
You don't want to pick stocks based on guess work or randomness. You want a systematic, step-by-step methodology irrespective of who uses it and it should give exactly the same result.
If you want to grow your money, you need one type of strategy and if you need to generate income, you need a different strategy.

If you want to Trade for short term (Day Trading), medium term (Swing Trading), or long term (End-of-Day Trading) again you need different sets of strategies.
Knowing which strategy to use and for what purpose makes your Trading measurable and driven by a purpose. This way the certainty of meeting your Trading goals increases.
How to Validate A Stock and Negate Conflicting information:
There is so much conflicting information about stocks… how do you know which stocks to Trade in?!? TV may say Stock ABC is good to buy and the newspaper may say ABC is really a bad stock to own.
In the Stock Trading Made Simple, you will learn precisely how to validate the stock to arrive at the correct conclusion. This will help you to avoid selling too soonyour gold laying goose or buying a stock that is a dead duck that goes nowhere and makes no money.
How to Deal With Risks:
Risk is like an obstruction on your path. As you are driving at full speed, if you don't spot them and take corrective action, then the damage it can cause will depend on the size and nature of the obstruction.
Similarly, In The stock market, you have risks that could derail your Trades and prevent you from achieving your Trading goals.
The Learn at Lunch Stock Trading Made Simple, is carefully designed to teach you everything you need to know about the Risk, Reward, and Return of Trading, irrespective of your trading time horizon.
You will learn as a Trader how to deal with different types of risks. How To spot them.
Some risks are avoidable, some are transferable, some are manageable and some you can mitigate.
Mastering this will give you the ability to minimize losses
Strategies for minimizing risk when possible
You will also learn how to deal with controllable risks and how to avoid uncontrollable risk.
Having a clear and precise strategy for each scenario helps you to deal with it effectively and protect your profitable trades from turning into painful losses.
How to Buy Low and Sell High:
How to spot high-return opportunities for your stocks
If you think like a business man for a minute, you want to pay for your stock as low money as possible and sell it at as high as possible for higher profits.
Learning how to do this will help you to maximize your returns.
How to spot and follow trends
Trends last very long time. When you are in a good stock and in a trending stock, you want to learn how to spot the trend and how to take advantage of it.
By learning this you will not only avoid selling too soon but also will be able to get maximum mileage out of the stock.
How to Deal With Emotional Roller coasters:
Profits and losses often trigger emotions of euphoria, sadness and or stress. Fear of missing out and Greed for more makes people buy a stock at a wrong price or buy it High. Fear of losses makes them Sell Low.
Knowing our step-by-step rule-based approach taught in the course and learning Discipline will help you to master the art of Trading and you will learn to avoid amateur blunders.
How to manage Your Trades:
You need to know what type of orders to place to buy a stock, to sell a stock, to lock your profits and to cut your losses.
We talk about in detail how to do this in the course. By knowing this, you set the relevant orders as soon as you buy the stock, so that as a Trader, you don't need to babysit your stock 24 by 7.
How to monitor your stocks
We teach you how to set alerts, how to monitor and trade your stocks even when you are on the move and away from your computer
When to add and when to cut back
There will be times where you want to buy more of a winning stock and cut back on a losing stock. By knowing the signs, you will be able to double up on the winning stocks and double down on the losing one.
How to manage Your Capital:
As your Trading bucket grows, you need to learn how many stocks of ABC you should buy where you should put more money and where less etc. For all these, you need a systematic method that is simple to follow. You also need to know your risk tolerance appetite and need to be aware of your absolute no tolerance cut off point for losses, so that you can preserve your capital.
Capital preservation is key.
How to Find out Targets with Laser Precision:
Stock market has patterns, stock follows patterns. Each has its own behavior.
Learn these special secret way of working out precise targets and you will know exactly where you are going to get off the stock with a small loss (losses are inevitable in stock market) or a huge gain.
All of these sessions are split up into concise, easy-to-learn modules that you can do in your spare time. These are time-tested strategies and strategies used by professional traders. Some of them are special secret strategies of top notch investors and traders.
We get straight to the point and only focus on the information that matters – everything from the basic terminology all the way to real-world investing strategies that you can implement immediately.
Imagine how valuable these 6 weeks are going to be to you after a year or two of trading…
Not only will you have the confidence to navigate the stock market with ease, but you'll also have another way to create residual income for years to come once you master it and continue to exercise discipline.
It's up to you to decide why you're Trading – our job is to help you Trade efficiently so you can enjoy your new found freedom in the way that you see fit!
Why Should You Buy This Course?
What Is So Special About It?
Over Three Decades I worked with Top traders, students of different knowledge levels and mentors. I noticed that beginner investors and traders often lose money because they do certain mistakes either one or more of them. Some do it over and over again, leading to losses and in some cases, heavy losses. This affects their physical and emotional well-being, affects their family life, and destroys their future hope and ambitions.
On the other hand, based on my own personal experience and that of the successful traders and mentors, I know the common traits of successful Traders and Investors. I know exactly and precisely what they do that makes the difference between making profits or getting strangled with losses.
So combining all this information, I have developed my own proprietary system Called '3R System'. It Is incorporated within all my courses including this one. It is a system that help beginners to minimize losses, maximize their rewards and returns.
This in essence minimizes the bad mistakes of beginner traders. It protects them even if they try to make one. On the other hand, it has the goodness of the successful traders so helps a beginner to get better results like that of a professional trader as long as the rules are followed. This is unique to us and it is not available elsewhere.
You can watch the testimonial below to see how a student describes it in his own terms. When Kerry joined us, he knew nothing about stock market. Now you can see, how he has mastered the art of Trading and Investing by learning the ins and outs of the 3R system to become a successful Stock Trader. It is your turn to be our next success story.
Click the button below if you are ready to become our next success story.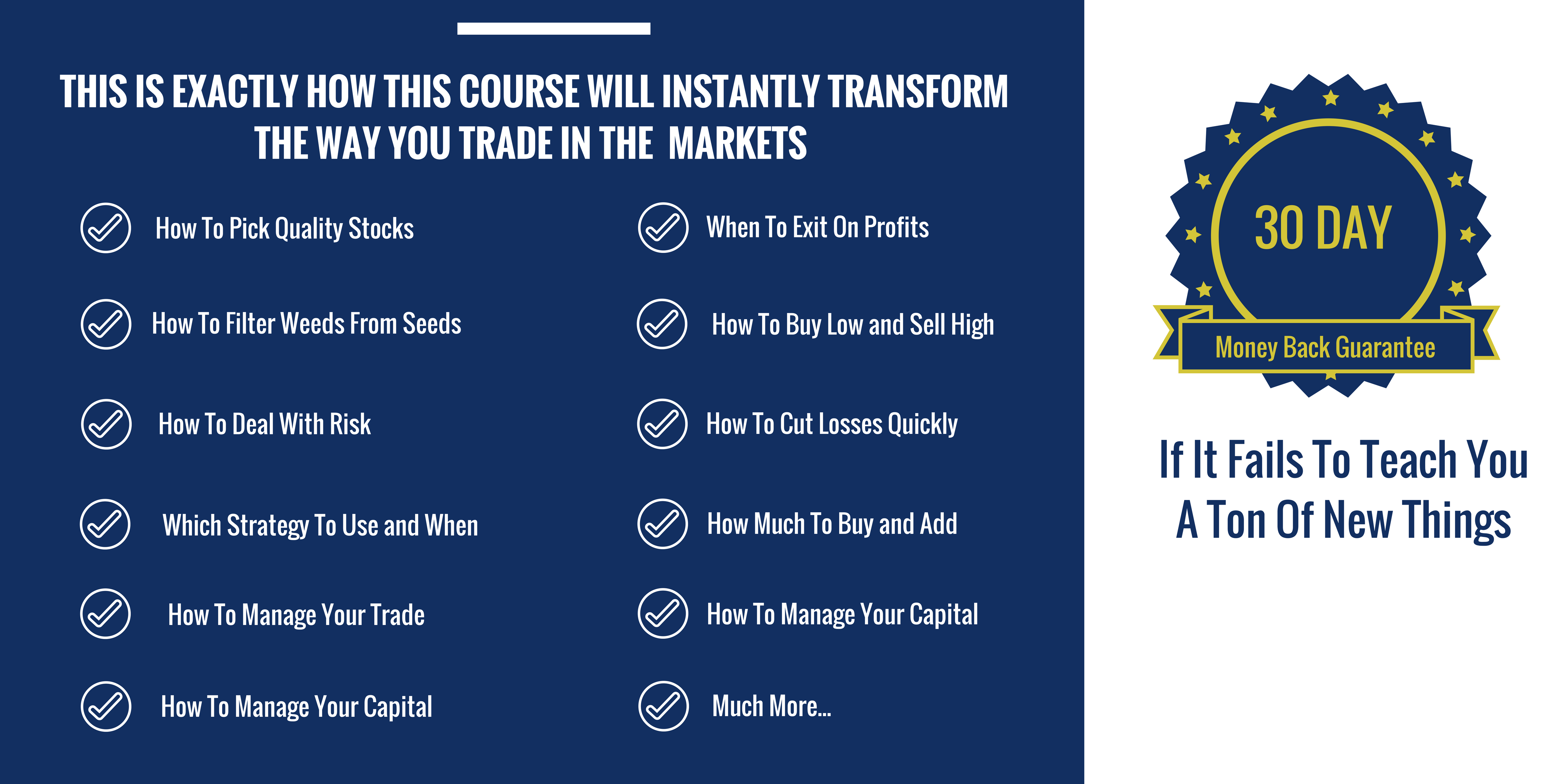 Get Started Right Now and Reap The Benefits!
P.S Your Future Self Will Thank You
Imagine your life 10, 20, or 30 years from now; after Trading in the stock market. Where do you want to be? How do you want to spend your time? What type of life does your family have? The only way to accomplish your financial goals is to get started today. At a minimum of 15 minutes per day for less than two months – how can you possibly NOT make time to invest in your future?
I've packed decades of experience and my own personal trading secrets into this comprehensive, step-by-step course. Everything has been rigorously tested and proven to withstand the ups and downs of the market. Even if you have zero trading experience and don't understand the most basic terminology of Trading, you will learn EVERYTHING you need to know.
Get started today and your future self will thank you!
Frequently Asked Questions (FAQs)
When does the course start and finish?
The course starts now and never ends! It is a completely self-paced online course - you decide when you start and when you finish.
How long do I have access to the course?
How does lifetime access sound? After enrolling, you have unlimited access to this course for as long as you like - across any and all devices you own.
What if I am unhappy with the course?
We would never want you to be unhappy! If you are unsatisfied with your purchase, contact us in the first 30 days and we will give you a full refund.
How are the contents of this program are delivered?
• This is a Home Study Program.
• It contains 21 Intense Sessions, Each Lasting Around 15 Mins.
• It is Available Exclusively to You, in Your own Private Secured Area with an user id and password.
• It is a Follow Along 'Step- By-Step' Program.
• It is Delivered in English.
• The Strategies and contents can be applied to any stock market in the world.
• But, All the contents and examples are chosen on purpose from the US market (US Market is the most complex and established liquid market. Once you master How To Invest in the US Markets, other markets are relatively easy).
• There are no Retake costs.
• Once Paid You Get Life Long access and all updates are free.
What If I have questions?
• You Can write us with your questions
• You can join our private group where you can raise your questions
• You will get invitations to group gatherings (online) you can ask there also
This Program Is For You Even If You Have...
• Zero Experience in Stock Trading..
• Never Seen Consistent Winning Trades in the Markets..
• No Expertise in the Stock Market Trading…
• Never Heard the Stock Market Vocabulary…
• No Knowledge of the Stock Market …
• Never Felt How It Is Like to be liberated financially…
• Never Known Where to Start with Stock Market Trading…
This Program Is Not For...
• Make Things Complicated
• Seek Holy Grail Of Investing • Can't Decide
• Are Not Prepared To Put In Practice Time
• Are Serious About Trading
• Are Looking For A Tried And Tested System
• Can Follow Simple Instructions
• Want To Avoid Trial And Error
• Want To Learn Professional Secrets
• Want To Acquire A Skill For Life
The contents of RiskRewardReturn.com have been prepared for Educational Purpose and General Information Only and is not (and cannot be inferred or construed or relied upon as) your personal advise nor as an offer to buy or sell or recommend to or subscribe to any of the financial instruments or products or asset class mentioned here in. No Specific or general investment objectives, financial circumstances or needs of any individual or group have been taken into consideration in preparation or delivery of the content. Financial Products are complex, entail risk of loss, stocks may rise and fall and are impacted by a range of economic, geo-political, contagion and market factors. You must always consult or seek professional advice if in doubt to ensure investing or trading in such instruments or products is suitable for your circumstances. Past Results are not indicative of future. Stock prices can move up or down against your investment and some times rather quickly. It is possible to lose some or all of the money invested. It is paramount to ensure that you are investing with the money you could afford to lose in case if the price moves against your investment and causes loss.